Shorehom By The Sea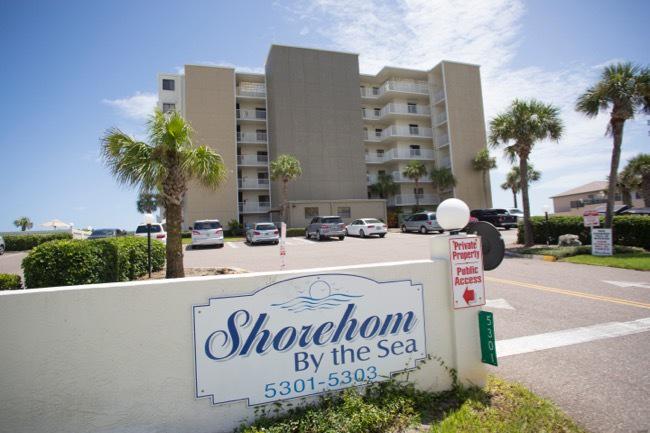 5301 Atlantic Ave
New Smyrna Beach,
Florida
32169
Price Range: $400,000 - $625,000
Sq Ft Range: 1,390 - 1,700 sq ft
Bedrooms: 2-3
Number of Stories: 6
Number of Units: 58
Pets: No
Year Built: 1979
Shorehom by the Sea Real Estate
Dive into the Lifestyles of Shorehom by the Sea Condos New Smyrna Beach
If you are looking for exclusive Lifestyle of New Smyrna Beach's beach, breathtaking ocean views, and every amenity that you would expect from top tier New Smyrna Beach condos; then look no further. Shorehom by the Sea is the perfect Lifestyle for your fun in the sun!
This small condo complex offers a variety of 2 to 3 bedroom units that feature aesthetically appealing décor and a full range of niceties that will make your dream condo or vacation as enjoyable and relaxing as possible. Ranging from over 1300 sq ft for 2 beds and 1700 sq ft for 3 beds.
You'll find Shorehom by the Sea to be more than adequate for your group's needs, in a serene unrivaled beach setting.
A full range of condo amenities & lifestyle choices
The 2 and 3 bedroom condos at Shorehom by the Sea are equipped with everything you need for family get away, full time residency or  short/long term vacation.
Improtant features that sometims get over looked:  Amenities that make Shorehom by the Sea your place in the sun and fun include:
washer and dryer
private balconies with ocean views and so much more.
Lower your vacation costs by cooking for your group or family rather than dining out every night. Wake up to incredible ocean sunrises while enjoying a homemade breakfast with your loved ones.
Several building amenities and beach access
The private beach access is one of the top draws to the New Smyrna Beach vacation rentals at Shorehom by the Sea.
The section of beach right outside of the complex is located on a no-drive section of New Smyrna Beach, providing you with serenity and allowing you to indulge in the breathtaking ocean scenery without any obstructions or disturbances.
In addition, the building has a range of features for your convenience such as several open parking spots, a pool area, shuffleboard courts, well maintained landscaping, motorcycle and boat trailer parking, and canoe and kayak racks.
Experience New Smyrna Beach Lifestyles and the ocean like never before
While staying at Shorehom by the Sea, you'll get to also enjoy every exciting ocean activity in New Smyrna Beach such as fishing charters, paddleboarding, surfing, boat tours, kayaking and canoeing, swimming and more.
Just a few near by attractions :
New Smyrna Speedway, Flagler Avenue Park, New Smyrna Museum of History and interesting historic sites like the Sugar Mill Ruins and Canal Street Historic District.
There's no doubt that you will be more than pleased with the comfortable and spacious New Smyrna Beach's Shorehom by the Sea condos no matter how long you are planning on staying!
If the white sands of the beach are calling you; call us at NSBHomes today to assist you in selecting your recreational and relaxation at Shorehom by the Sea. Located directly on the white-sand shores of the Atlantic Ocean on a quiet, no-drive section of southern New Smyrna Beach, Shorehom is a place of beautiful homes, amazing amenities, and breathtaking ocean views. Come explore the amazing lifestyle that awaits to find your ideal vacation destination in beautiful NSB.
#NSBhomes #NSBHomesLifestyeExperts #3rdGenerationNATIVENSBREALTORS
New Shorehom by the Sea Condos for Sale
There's an easier way to keep up with new listings in New Shorehom by the Sea. Save your searches, save favorite properties, and sign up for new listing alerts by creating your personal Property Organizer account today.
Selling Your New Shorehom by the Sea Condo?
Selling a condo in New Shorehom by the Sea? We can help! Learn more about listing your home with NSB Homes, including the tools and resources we offer our sellers, our marketing strategies, and our featured listings.
---
Come Explore Life in New Shorehom by the Sea
---

The Homes
The lovely condos of Shorehom by the Sea have been well-maintained and finished with modern upgrades and amenities to ensure everything you need for a comfortable and convenient vacation. You'll love the open floor plans, the spacious kitchens and bedrooms, the in-home washers and dryers, and of course, the breathtaking ocean views. And the private balcony is a perfect place for watching the sunrise!

The Community
As lovely as its homes, the Shorehom by the Sea condo offers amenities designed to keep you active, entertained, and relaxed throughout your stay. Enjoy access to three beautiful oceanfront pools, four tennis courts, two racquetball courts, shuffleboard courts, boat trailer parking, canoe and kayak racks, and on-site management. And the best part of all is the walk-on access to a private, quiet, no-drive section of beach!
---
New Shorehom by the Sea Attractions
---
What's Nearby?
Nearby Attractions
Discover unique local businesses and galleries at the Flagler Avenue commercial district, or head to the Canal Street historic district for specialty shops, fine dining, and a bit of nostalgia. Take a peek into the past at the New Smyrna Museum of History or catch a show at the Little Theatre of New Smyrna Beach.
Shopping & Dining
Shorehom by the Sea is located just 4 miles from E 3rd Ave, one of New Smyrna Beach's bustling commercial districts filled with stores, conveniences, restaurants, and businesses. You can find lots of local favorites along Flagler Ave or Canal Street, and big-box stores and businesses at the NSB Municipal Center.
Boating & Beaches
Large parks in the area like Mosquito Lagoon Aquatic Preserve and the smaller Smyrna Dunes Park offer beautiful scenic Florida landscape, as well as basketball courts, beach access, fishing, kayaking, boating, and picnic areas.
Golf Around NSB
Golf is definitely a favorite pastime of residents and visitors of NSB. Discover our beautiful public course, the NSB Municipal Course, or head to one of our amazing private courses, like Turnbull Bay, Hidden Lakes, or Sugar Mill Country Club.
---
Your New Home is Shorehom by the Sea
Imagine yourself visiting the farmer's market or classic car show every month along Canal Street, or basking in the warm sun or by the pool year-round. Make your new home at Shorehom by the Sea! If you'd like to get started in the home buying process, check out our buyer resources page, request a relocation package, or start a conversation with us.
Selling Your Condo at Shorehom by the Sea?
If you're feeling overwhelmed at the thought of putting your condo on the market, list with us and we can make your condo selling process as painless as possible. Let us help you sell your Shorehom by the Sea home for the right price in a timely manner, and you can start by finding out what your property is worth. Check out our wealth of home seller resources, or give us a call today. We look forward to hearing from you!
Searching for a Home in Shorehom by the Sea?